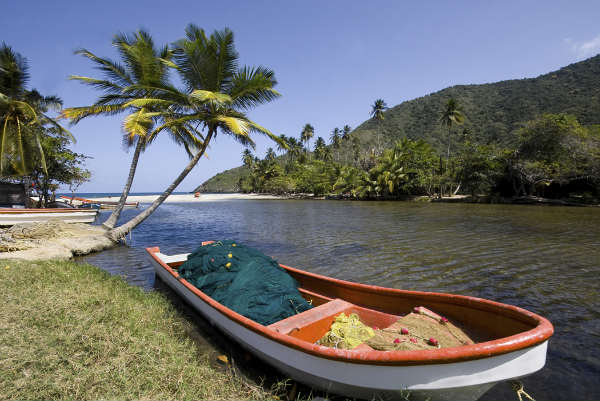 Steeped in a turbulent history, Caribbean food reflects the varied eras and cultures that have formed a unique culture. Fusion is the M.O. in these islands' cuisine, and shows just how diverse they are: East Indian, African, European, Chinese all being blended, of course, with fresh local ingredients. In addition, dishes have emerged as being completely unique to the area.
Many people this region for the food alone, and with so many fabulous foodie islands to choose from, the best way to sample all the Caribbean has to offer is by getting a yacht charter to go island hopping. Below are the best islands for you to drop anchor at for a foodie feast of coconut, okra, tomatoes and spices.
St Martin
You can blow the budget or spend merely a few dollars on a cheap meal and Carib beer – the choice is yours. The great part of this contrast is that most neighbourhoods, like Cul de Sac, Marigot and Grand Case, offer a wide range of foods for a wide range of prices. Most travellers agree that the food here is fantastic, from Indo-Caribbean fusion dishes like conch shell Vindaloo to more traditional dishes of shark and bake. Check out 'Le Tastevin' restaurant for one of the tastiest meals on the island. You can sit on the porch in front of the glittering blue sea, and be welcomed by the friendly Joseph. try the 'mahimahi' in a tomato-pineapple sauce for a real treat.
Trinidad
Locals think of Trinidad as the best place to get reasonable yet fantastic food. If 'hole-in-the-wall' place are what you're looking for, Trinidad is the place to come. It's also here that you can find the most diversity in term of cuisine: dishes with Middle Eastern, African, European, Chinese and Indian influences are all represented, and have all been tweaked over the years to best fit with the local fare. Street foods are popular here – take your yacht charter out to Maracas Bay to sample Phulourie, Doubles and Bake and Shark. For a full-on experience of what the island has to offer in culinary terms, don't forget to book a table at The Verandah, a gingerbread house of a restaurant with attentive staff and a menu which changes weekly.
Anguilla
The traditional cuisine of Anguilla has a strong base in African techniques and ingredients as well as influences from France, Spain and England. You'll eat lots of seafood, including spiny lobsters, crabs and marlin with plenty of fresh vegetables. The island has the reputation of being expensive, and it's true that many restaurants are top notch with some top prices. There are, however, plenty of establishments where the mains are more affordable. Head to Koal Keel and smaple one of their 15,000 bottle of fine wine and some excellent French and Caribbean fusion food.
Barbados
The dish synonymous with Bajan food is flying fish and cou cou, which is traditionally served on a Friday and is made with delicious tomatoes, okra, breadfruit and cornmeal. Slow roasted pork is also a delicacy here, as the quality of the meat is very good. Barbados, like Anguilla, has a reputation for expensive but delicious restaurants. One of the best (and most picturesque) is The Cliff with head chef Paul Owens at the helm. You'll have to book days or even in advance to secure the best view on the terrace.
Martinique
No round up the Caribbean's best food islands would be complete without Martinique. Good restaurants abound here, most with their particular French flavours. Try some of the imported French wines and local rum to see how they complement the food. The island boasts an entry in Condé Nast's 70 best new restaurants of the year: Le Belem serves stunning French cuisine in a beautiful five star property.
Lalage loves yacht charter holidays and camping under the stars
Image courtesy: 

iStockphoto