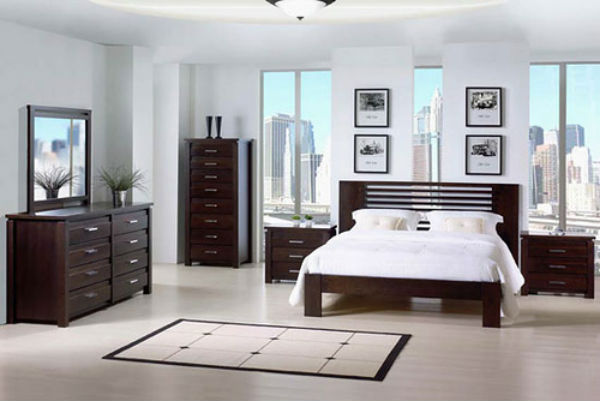 The bedroom is a place where you go to relax at the end of the day, leaving all your worries and stress aside. You might be dreaming of having a beautiful and an elegant look for your bedroom which will make you forget your daily worries and create a pleasing and calming atmosphere.A little creativity will help to turn your simple bedroom into the dream retreat you desire.  Here are a handful tips that will enable you to get a spectacular look for your home on a budget:
Paint your bedroom:
The first thing that would grab your attention when you enter a bedroom is the colour. Pick attractive colours and use different combinations to make your room walls look interesting
Bedding:
Your bed is the heart of the bedroom; so decorating it with beautiful bedding is the best thing to start with. Attractive bedspreads can instantly sooth your frazzled nerves and provide you great comfort. You can also use bedskirt to decorate your bed and add to its beauty.
Pillows:
Pillows add colour, shine and glitter to your room.  Pile up different sizes of pillows on your bed and mix up the patterns; this would give a fascinating look to your bedding.
Accessories:
You can decorate your home with different kinds of accessories. There are many types of accessories that you can use in your room like flower pots, lamps, show pieces and so on. These will not only homely add a feel to your bedroom but also give it an amazing look.
Wall art:
By using wall brackets you can bring order to any sort of uneven or odd shapes present in your room, they will also add a pleasant look to your room.  You can even have beautiful portraits on you wall.
Lighting:
If you do not have proper lighting in your room all the efforts of decorating your room is just waste. You need to have ambient lights in your room to add to its beauty. Lighting your room with lamps will also create a pleasant atmosphere.
Window dressing:
Curtains liven up the surroundings; therefore you can go for window dressing and decorate your windows with beautiful and attractive curtains; this will give a special touch to your room's decor.
Headboards:
Having an elegant headboard will add style and luxury to your room. Using you home accessories you can also create an amazing headboard for your room and cut down the prices.
Author Bio:  Hi I am Simon Clark. My passion is to write on Travel, Home Improvement and Home appliances you can reach me @travelplex.