Eval & GO is a new and innovative online survey solution, designed to address the survey creation, reporting and analysis needs of businesses, from start-ups through to Fortune 500 enterprises. Eval & GO is a fully comprehensive survey creation, reporting, analysis and contact management suite.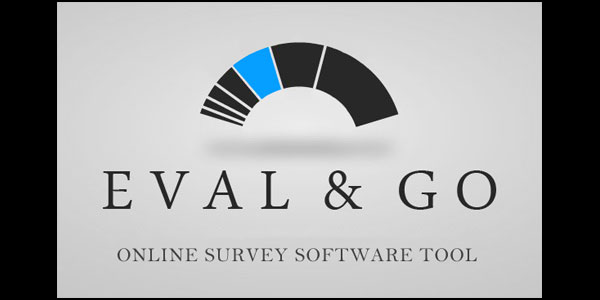 Collect, Analyze and Report:
Eval & GO was developed by business executives who felt there was a need to create a solution that met their needs. CEO of Eval & GO, Sebastien Lerouge explained: "As a former Marketing Director, I felt extremely frustrated with the solutions available on the market, which resulted in mountains of data, but no way to analyze the information." He continued: "Consequently, to make sense of the data, I either needed to become a number cruncher or hire an external agency to analyze the data."
Survey creation:
Survey creation with Eval & GO is designed with ease and speed in mind. A dazzling array of design and personalization options is on offer which is easy to manage and implement, using a template library. The Look and Feel editor is a great tool and its versatility will allow you to control what your respondents experience during a survey.
A full range of question types to suit every need, ranging from single answer questions through to sliders and heat maps is available.
Advanced survey creation options such as branching, multilingual surveys and quotas are also available. The Grouping function is an exciting innovation from Eval & GO, allowing the grouping of questions for analysis and reporting, even if the questions are not displayed together on the survey, which is ideal for 360-degree feedback.
Number crunching without the headaches:
Eval & GO was created with the assumption that business executives are not necessarily experts in the use of spreadsheets or other forms of data analysis. Eval & GO provides professional standard data analysis capabilities in a simple drag and drop interface, with no data analysis skills required. Even multi-level cross tabs can be generated instantly. There are more than 30 data calculations, grouped into Basic, Advanced and Scoring options and ranging from average and median through to gap analysis.
Professional reports in an instant:
Another key focus of Eval & GO is its exceptional reporting capabilities. Today, it goes without saying that every business executive ranging from an intern through to a VP of Marketing needs to present their survey findings, conclusions and recommendations in a professional manner.
CEO of Eval & GO, Sebastien Lerouge commented: "Companies today are extremely motivated to capture customer and user feedback at every stage of their interaction with the organization. However, many organizations are deterred from using online survey tools, as their analysis and reporting capabilities have often been lacking." Lerouge continued: "Eval & GO resolves this analysis and reporting problem. We've combined this with ease of use and in-depth capabilities never previously seen in the industry." The software permits you to create the report you want, no touch ups required. You can choose from a variety of graphs and tables to present your data clearly and effectively.
About Eval & GO:
Online surveys are incredibly powerful tools that should be accessible to everyone: Fortune 500, small business, start-up.
But there is a lot more to online surveys than creating and publishing. As Sebastien Lerouge explains, "That's why Eval & GO focused on a fully integrated suite of apps that treat analysis of survey data, survey reports and survey respondents with the same importance. We also believe that surveys should be beautiful – they represent our customer's brands, so we want to ensure that they create surveys they are proud of.
Eval & GO was created by business people for business people. People like us who aren't experts in spread sheets or graphic designers, but who believe that survey software should help provide business solutions."
Visit http://www.evalandgo.com
Pricing: For further pricing and plans information go to http://www.evalandgo.com/pricing/.
Eval & GO is an SaaS solution, with 4 subscription options and a free version. Subscriptions are available on a monthly and annual basis and range from $26 to $750 per month.
Tour: Take a tour of Eval & GO's features at http://www.evalandgo.com/tour/ .
Contact: Sealia Thevenau, Marketing Assistant; @: press@evalandgo.com