What… isn't owning an airplane only for the richest?
Actually no it's not. Remember how aviation started – two enthusiasts were working hard using their own hands, failed, tried again, and at the end constructed their first airplane.
Even now enthusiasts are still building their own ultralight aircraft and flying them. And you can be one of them too. You don't have to invent anything, because a lot of affordable models are already available and kits and plans for them are offered worldwide.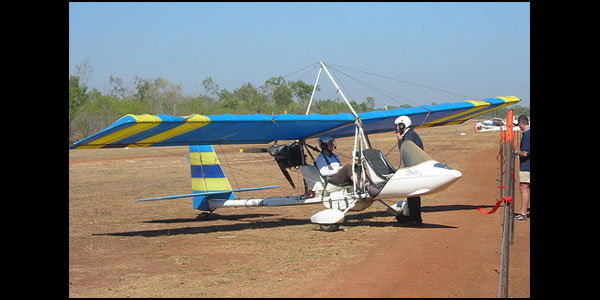 This is not a toy, it's a real flying aircraft
You don't have to build your airplane yourself either, you can just buy an ultralight at the price of a new car. Or cheaper if you buy it used.
So, in case you also have the dream to fly, here is what it takes:
Get Training, Obtain License
Licensing requirements vary in different countries and for the different types of aircraft. In the USA, flying most ultralight airplanes requires owning a Sport Pilot License.  Some countries may not require a license at all for the lightest aircraft such as powered para-gliders. In all cases you will have to check the full details before applying for training, and for sure getting some training is the first step to flying your own airplane.
Even if license is not required where you live, please do take some pilot education. It will make your flying much safer. Additionally you'll be able to do your first assisted flights during the training. This is a good thing to do before spending money on an ultralight aircraft. In these assisted flights some people unfortunately discover that flying an ultralight just isn't their cup of tea.
Figure Out The Aircraft You Want To Fly
Maybe you saw that cool single-seater at the latest aviation show and that made you eager to fly your own. There's nothing bad in this. But I urge you to learn more about all the types of ultralight aircraft first. There are so many interesting vehicles – ultralight helicopters, gyrocopters, hovercraft, powered paragliders, ultralight strikes… Don't rush it, you may suddenly discover something much cooler or more affordable than the airplane you first liked most.
It's important also to have in mind what your license allows you to fly. Training and license for an airplane won't work for flying a helicopter.
Buy It and Have It Registered
The next most obvious step is to buy your ultralight aircraft. Of course there are many models and types to choose from. There are also several buying options you may want to consider:
Buy a new one. Search for the official site of the company producing the model you want to buy. Sometimes there will be order form or contact form, sometimes they will send you to a local dealer. Check all options for the best price. Expect to pay somewhere between $20,000 and $200,000 depending on the aircraft. Most ultralights cost closer to the bottom range.
Buy second-hand. You'll be surprised to find that many models that are not produced for years can still be available for sale second-hand. I have seen airplanes built-in 1960 for example and they are still in good shape. Of course you need to examine the airplane well and not to make any compromise with the safety. Many second-hand ultralights can be bought in the range of $10,000 – $20,000.
Buy a share in aviation club. Because even the ultralight airplanes are expensive to own, the aviation enthusiasts have created many clubs all over the world. In them they gather together and buy airplanes that are then owned by 4-5 pilots. Of course this limits the comfort to have your own airplane all the time but it also reduces your expenses 4-5 times. So instead of $20,000 you may end up spending only $4,000. Don't forget there are ongoing costs too, and they are also split in the club.
… Or Build It Yourself!
Do you feel really enthusiastic? And have some free time and basic technical skills? Then you can join the thousands of enthusiasts who build their airplanes themselves. Of course most don't do the design – there are plans available for hundreds of homebuilt models. If you have skillful hands you can buy such plans, buy some parts and build it yourself. For moderately complex aircraft it's expected to take between 1,500 and 2,500 man hours.
There is a simpler although more expensive way to build an airplane yourself. Many companies sell aircraft in kit form. The kits can be complete or sub-kits for airframe, wings etc. Building from a kit is much easier than building from scratch.
At the end don't forget to register your ultralight airplane and to get it technically examined. Safety is first. Then enjoy flying!