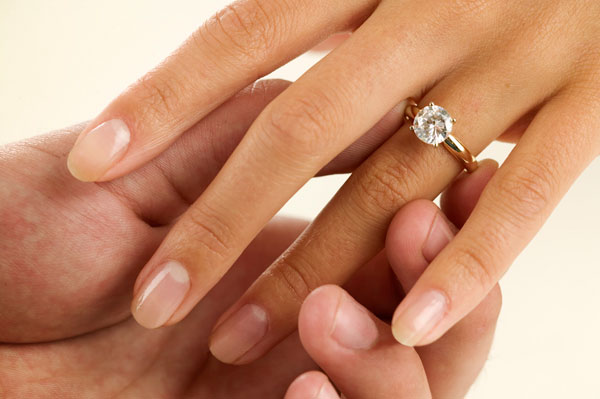 You and your loved one are about to embark on one of life's most exciting journeys-pledging your love and commitment by becoming engaged! You are about to make one of the most important purchases of your life and select that perfect diamond engagement ring. You want the diamond to say "I love you" and make the moment unforgettable. It is time for you to educate yourself about diamond engagement rings so that you can present your loved one with that perfect ring!
With hundreds of settings and thousands of diamonds to choose from and they vary widely in price. There are beautiful diamonds and settings to suit every budget. Diamonds are specially-selected and graded by gemologists who turn these exquisite stones into one of a kind masterpieces so that they are admired for years to come. You will want to think about what type of setting you desire so that it complements your final wedding set. Settings can be platinum, gold, white gold; mounted on thin or thick bands; available as solitaires or channel sets. Every diamond engagement includes parts: the setting and the center diamond. The ring portion is the "setting" which includes the prong types, band, and accent stones. The center diamond is the major factor in the price of the ring.
-To be confident about your choice of diamond, you will want to understand the four C's:
Carat- Diamonds are measured by weight and in units of grams. One carat is equal to .2 grams. The more carat weight your diamond has, the more significant it is to balance the setting, band width and/or surrounding design so that the diamond remains upright upon her finger and doesn't turn where it can become damaged.
Colour- A diamond's color refers to the presence or absence of color in white diamonds. Color is a result of the composition of the diamond, and it never changes over time. A diamond that is colorless allows light to pass through and reflect the true sparkle and fire of this precious jewel. A diamond of great value gives off a much whiter appearance in comparison to other diamonds. Diamonds that are graded G through I appear colorless to the untrained eye. Fancy diamonds are expensive, rare jewels and more valuable due to their unique colour.
Clarity- Diamonds can have flaws such as inclusions and blemishes. Inclusions are interior flaws and blemishes are surface flaws. Diamonds are graded for clarity as follows: F-Flawless; IF-Internally Flawless; VVS1-VVS2-Very Very Slightly Included (two grades) with minute inclusions that are very difficult to detect under 10x magnification; VS1-VS2-Very Slightly Included (two grades) with minute inclusions that are very difficult to detect under 10x magnification; SI1-SI2-Slightly Included (two grades) minute inclusions more easily detected under 10x magnification; I1-I2-I3 Included (three grades) inclusions visible under 10x magnification as well as to the human eye.
Cut – A well-cut diamond allows light to travel through the stone. The result is a brilliant, fiery effect that begs to be admired. A poorly cut diamond lacks this type of brilliance and is duller to the eye. Cuts can be graded from fair or poor to an ideal cut.
With this basic knowledge of diamonds, you can be assured that you will find the right diamond engagement ring as a symbol of your love to present at that special moment!