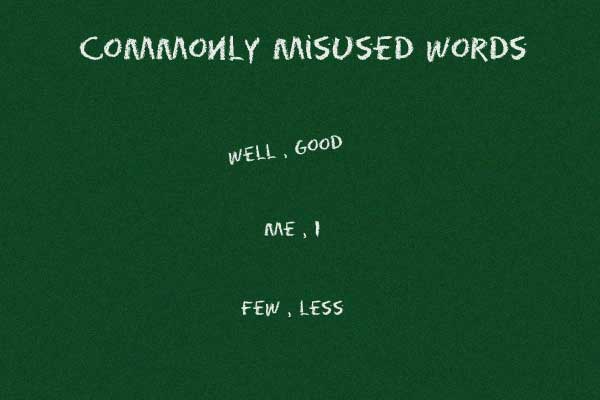 The English language boasts more words than any other language, but such an amazing feat doesn't occur without its drawbacks. Because the English language is in a constant state of flux, even native English speakers can fail to grasp basic practices. Colloquial speech among native English speakers rarely follows traditional rules of grammar, so it can be hard for a non native speaker to reconcile what they've learned in classrooms with what they hear around them. One of the most common mistakes committed by all speakers of the English language is the misuse of basic words in our day to day vocabulary. Below are examples of three basic mistakes that you can work to correct in practice.
Well and Good
English speakers often disregard the subtle difference between the words "well" and "good," often choosing whichever word sounds right to them. While they both denote a positive state of being, there is a substantive difference between these two words. Well is typically used as an adverb (a word used to describe a verb) and would be an appropriate response to the question "How have you been working?" You would answer, "I've been working well." In this instance, "well" describes the way in which you work. Saying "I've been working good" would be a mistake, as good is typically used as an adjective to describe the state of things (nouns). Another way to remember the proper usage of well is the commonly used phrase "Well played." In the case of that short phrase, well is describing the way that a person played a game or a sport. Using "good" in the same instance wouldn't suffice.
On the other hand, if someone were to ask how you were, you wouldn't be grammatically wrong in saying "I'm good." This is because in this instance, good is used as an adjective in conjunction with a linking verb (the verb "to be") to describe a state of being.
Me and I
If you have a Facebook or a Twitter account, you've probably noticed a trend of people posting pictures with a notorious grammatical error that looks something like this "Mom at the park with Sara and I." Contrary to popular belief, the correct usage in that sentence is actually "me." Unfortunately, more and more people are mistakenly using "I" instead of "me" thinking that they're grammatically correct, when really they're committing one of the most common grammar mistakes in the English language. But the solution to this pronoun quandary is quite simple. Whenever you doubt your usage of me/I in a sentence, simply take out the other object of the sentence. For instance:
She went to the supermarket with Harold and (me/I).
She went to the supermarket with me.
Notice how by taking out the other object of the verb I was able to easily identify "me" as the correct pronoun in that sentence. This method will work for almost every sentence with a compound object that requires me or I.
Few and Less
Have you ever seen a sign in your grocery store that reads "Less than 15 items?" That phrase actually showcases another common grammatical mistake, where people confuse the proper usage of "fewer" with "less." You should use the word few or fewer when referring to a number of items. For instance:
They said we could buy no fewer than five DVDs to qualify for the discount.
We could walk to class if we carried fewer books than we needed.
On the other hand, you use "less" when you want to talk about a general amount of something. Less refers to a smaller amount of something more abstract. There's no specific amount specified when you use "less," it can refer to a broad range of quantification. For example:
The less we mention it, the better chance we have at getting that bonus.
He had noticeably less emotion in his voice after the meeting.