Red Chicken Curry
is a quick and easy recipe. This is apt for bachelors looking for an easy-to-cook gravy. It doesn't consume a lot of time, so if you have surprise guests you can spend your time with them and still serve them yummy food without having to linger in the kitchen.
Prep Time: 10 minutes
Cooking Time: 15 minutes
Serving Suggestions : With Roti / Chapathi/ Idli
Serves: 5
Ingredients: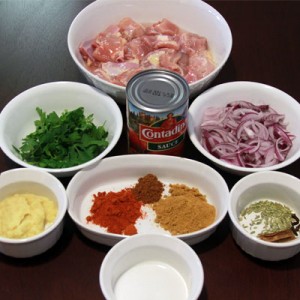 Chicken – 1 Lb (0.5 kg)
Onion – 1
Tomato sauce or tomato paste  1 cup (or 2 tomatoes)
Chilli powder – 1.5 teaspoon (or 1 teaspoon if you want it to be milder)
Coriander powder – 3 teaspoons
Turmeric powder – few pinches or 1/4 of a teaspoon
Garam masala powder – 1 teaspoon
Ginger garlic paste – 1.5 teaspoon
Raw spices ( 1 cinnamon stick, 3 cloves & few aniseeds)
Cilantro – a small bunch
Oil – 2 tablespoons
Salt as needed
Procedure:
In a thick bottomed vessel (pressure cooker would be the best option, if you want it to be ready quick), heat oil & fry the raw spices for a couple of seconds
Add the Onion & saute well, until it turns to a golden brown colour
Add ginger garlic paste & garam masala powder and saute for another minute
Add tomato sauce (or tomato paste or tomatoes ). Note:  If using tomatoes, make sure that they are cooked and mashed well before the next step. A few tablespoons of water can be optionally added when using tomatoes instead of tomato sauce. Using tomato sauce here has a few advantages (1) The gravy will be thicker (2) Tomato sauce/paste is Healthier as it has higher lycopene content, a cancer fighting antioxidant. When frying tomatoes the lycopene content reduces
Add coriander powder, chilli powder & turmeric powder. Saute for another minute
Add the chicken & cilantro leaves.
Cover and cook. (If using pressure cooker, cook for 2 whistles. Otherwise, cook for 10-12 minutes until the chicken is cooked thoroughly)
Serve the curry with hot Roti/ chapathi/ Idli/ Dosa. This would also go well with variety rice like tomato rice, fried rice or just plain steamed white rice.