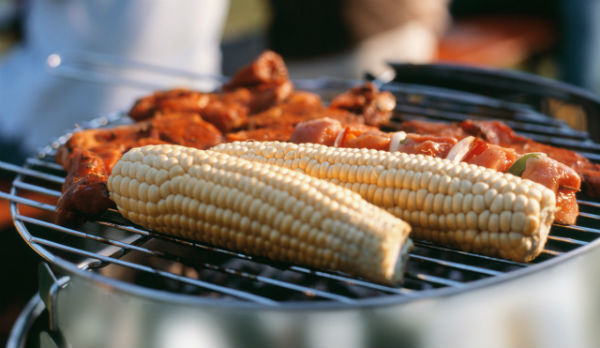 So you're at a party with friends and you do the polite thing. You offer to help with final preparations before the rest of the guests arrive. The host had planned to do some outdoor cooking on the gas grill and says, "Sure! Can you start up the grill and man that for us?" Gulp. Didn't think they'd actually take you up on the offer, huh? Fear not, a gas grill is relatively easy to use, it cooks clean so even as a rookie you're less likely to goof up the food, and gas grills are simple to clean after the fact. Here are a few areas of basics to brush up on, so you can grab that spatula with confidence and have the party guests praising your outdoor skills.
Temperature
With an outdoor gas grill, it's easier to get the fire started and lit to the desired level for optimal heat. Sometimes it's even as simple as pushing a button. Give it five or ten minutes on a high heat to warm up, then adjust to the appropriate level for the items you need to cook. The gas grill will have much more flexibility in this area than charcoal.
Well done beef will require the highest minimum temperatures of all meats (170 degrees or higher according to USDA guidelines). Medium-well beef and chicken/poultry would be next at 165 degrees. Medium-cooked beef and pork follow next at 160 degrees, with fish and medium-to-rare cooked beef requiring a temperature of at least 145 degrees to be completely cooked. Some who are more daring may prefer beef cooked at lower temperatures ranging from the 120s to 155 or above, but just be aware of the USDA guidelines as a starting point. It's best to have a thermometer handy when grilling to
Time
There are three variable to consider to determine your cooking time on an outdoor gas grill, which results in far too many outcomes to list here. However, the same general rule of thumb will follow with cooking time as listed above with regard to temperature for the various types of meats (i.e. fish will typically require less time on the grill than thick red meat). In addition to the type of item you are cooking, consider its thickness and level of completeness you'd like for it to be cooked. For example, a 3/4″ steak might require 3-4 minutes on each side to reach 145 degrees and be cooked as medium-rare, while you may need another 1-2 minutes per side to attain the 160 degree completeness of "medium". Remember, it's a lot easier to "throw it back on the grill" if someone wants to cook it through a little longer so it's best to err on the side of less cooked as starting point.
Preparation
Hopefully your host already took care of this area when they handed you the "keys" to their gas grill. Ideal outdoor grilling will have well-prepared items so that meats have been marinated and seasoned as desired, or trimmed as needed. Sometimes it's helpful to place delicate fish on foil to prevent it from breaking apart and falling through. Other than that, be sure to have your platters and tools ready, as well as a timer and thermometer handy. Stay focused. Manning the gas grill while cooking outside is not a role that should include multi-tasking. Otherwise, you may find yourself ordering burgers for delivery as a back-up plan.
This guest blog was written by Florida Lift Gas, a locally owned and operated provider of Orlando Propane. We are a propane delivery service specializing in propane exchange. On top of our wholesale propane delivery, we ensure top notch service with quality products.
Image courtesy: 

Microsoft Office