Your feet constantly take a beating. From dirty floors to pool pavement to cold winter weather, our feet are the relentless victim of life's harshest conditions. Many times we take our feet for granted, but the truth is, they make even our smallest movements possible. They're the reason we can cross off that mini-marathon on our bucket lists, why we can sport those sassy stilettos with confidence, and why we can live our lives to the fullest. And how do we repay them? Many times we shove them into too small of shoes, neglect them when getting out of the shower, and stand on them for way too long. Your hooves deserve a lot more credit, because your foot care routine not only affects their appearance, but also affects your overall health.  Here are five easy tips to take your feet from dry and funky to comfortable and friendly in no time. After all, our feet deserve it.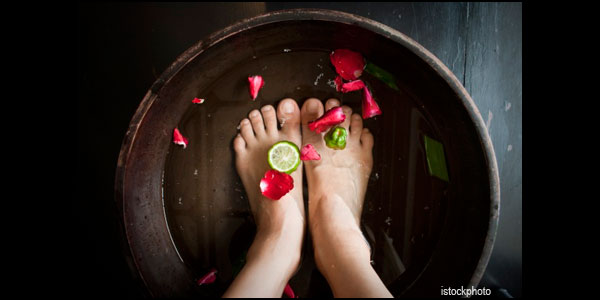 1. Wash Them Properly
One of the biggest mistakes we make with our feet starts in the shower. Many of us don't spend enough time washing our feet thoroughly, even though they are one of the most exposed body parts to dirt, sweat, and skin buildup. Did you know that your feet can produce up to a pint of sweat a day? Make sure to wash them properly: rinse with mild soaps under warm water, and don't forget to wash between your toes and under your toenails. It's also helpful to use exfoliating soaps or a pumice stone once you dry off. Always make sure your feet are completely dry afterwards.
2. Moisturize, Moisturize, Moisturize
Harsh weather conditions and dust make your feet thirsty. Choose lotions and creams with Shea Butter, Coconut Oil, Rosemary, and/or Peppermint to keep your feet quenched and refreshed. This will also keep them from painful peeling and cracked heels. Take a second from your busy day to massage your feet with these lotions and creams for nourishment and relief. For a relaxing experience, try getting a professional pedicure or do one yourself: massages do wonders for your circulation! Read more on the health benefits of Home & Spa Pedicures.
3.  Trim Toenails
Your toenails grow at an alarming rate, and even more so during the warmer months. Make sure to keep your toenails tidy by filing straight across. Don't trim them too short, dig at the corners, or cut your cuticles: these all can lead to painful ingrown toenails. You don't need to trim your toenails daily, but make sure to keep an eye on them and give them the attention they need before they rub against your shoe or cause other undesirable pain.
4. Inspect Your Feet
Always make sure to check your feet for any changes in color, temperature, or discomfort. Use a mirror to see all angles of your feet, and be weary of cuts, blisters, or discolored toenails. These could get infected or develop a fungus. Always make sure to consult your podiatrist for any medical advice or treatment, and become familiar with common foot conditions and treatments so you know what to look for. To find a podiatrist nearest you, visit the American Podiatric Medical Association and Today's Podiatrist.
5. Wear Comfortable Shoes
Don't buy shoes that are too small and hope that they'll stretch out later. When shopping for shoes, measure your feet first, and then try the shoes on to make sure they fit each foot. Many doctors recommend you to try on shoes later in the day when the feet are the largest, and to aim for a shoe that's shaped similarly to your feet. The more angular or rounded the shoe is (think heels and flats), the worse they are for your feet. Same goes with poor cushioning and support (think flip-flops and dress shoes). Web MD has a great article about The Worst Shoes for Your Feet. In addition, make sure to rotate your shoes frequently to prevent them from wear and tear.