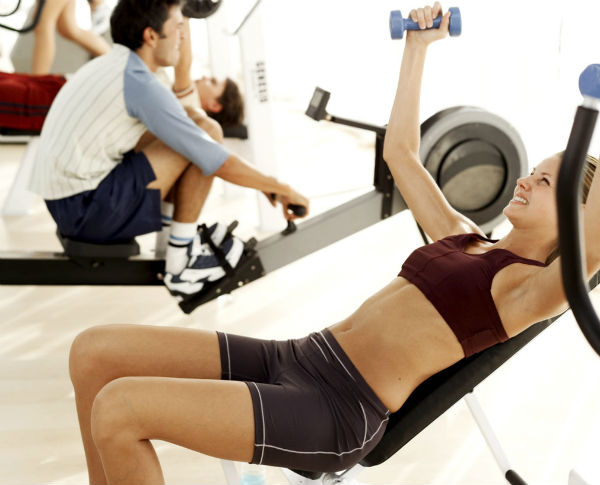 The irony of gyms is that people go there with the intention of being healthy, yet many find themselves getting sick! Not a huge number, but many find that their own hygiene practices (or perhaps those of their co-exercisers) are not up to par with the reality of being in a place where people sweat constantly and touch the same machines, benches, and metal bars as everyone else. Here are a few tips for keeping healthy while at the gym.
Join a Clean Gym
First of all, you can start before you ever start exercising. When choosing a gym, look for the places that pride themselves on their hygiene (and consistently get good marks from the sanitation auditors). You can do pretty much the same sort of workout anywhere, but some places are truly cleaner than others. When you check out a gym, look to see if the fitness staff and the patrons are wiping down the machines after they use them, and not just with a dry towel. You should notice that the fitness staff have bottles of cleaner with them or near their post almost always.
Secondly, check out the bathrooms. Most people don't think about this, but the status of the bathroom can determine the hygiene of the rest of the building. If stuff is strewn about and it looks as though it hasn't been cleaned in a month, you can assume that the place is crawling with unwanted life and that not everyone has washed their hands. Yikes, right?! One of the most common infections people get in fitness centers is staph. Ask your gym if they have rules about covering open wounds, and how they enforce them. Usually a first-time gym visitor on a tour won't be able to check all of these things, but sign up for a trial period to give the place a good look-down yourself.
Wipe Down Machines
If you want your gym staff to be clean, then make sure you are clean yourself! Carry a sweat rag with you at all times and even a bottle of hand sanitizer. The sweat rag carries a dual purpose. First of all, it allows you to protect others by wiping your sweat, spit, and hand prints off of any machines. This is obvious right? Secondly, it allows you to protect yourself by having a means of wiping sweat from your own face and body without touching yourself with your hand that have touched everything. I notice that my complexion changes a bit when I'm not careful about this. Not to mention the fact that metals (almost everything in the gym) rust a little bit in the open air. When get your hands slightly rusty doing power cleans (even if you can't see it), and then wipe your face, you make get a little acne. True story. A gym is only as clean as its most irresponsible patron. Don't be the weakest link at your gym!
Clean Yourself
If your gym offers a place to shower when you finish working out, consider taking advantage of it, even if you only live a block away. You can ensure that what happens at the gym stays at the gym if you wash yourself before getting in your car or touching your things/loved ones at home.
Wash Your Clothes
Ok, so I played team sports growing up (I basically grew up in the locker room) and I know that there are some of you out there who think it's ok to wear the same clothes to workout in/practice every day without washing them since you're going to get sweaty anyways. Wrong. Fail! As I mentioned before, staph infections are virtually handed a free entry ticket into your life when you do this. There are so many stories of kids getting sick and dying within a week of athletic events like basketball games because they or someone else wasn't doing their job off the court. Not to sound extreme, but it has happened, and too often. It wouldn't hurt to clean out your gym bag as well with some spray sanitizer.
If you follow a few simple instructions the gym can be a super healthy place for you. The goal is fitness, not sickness. I'm sure you agree. Now go out there and stay healthy my friends!
Kevin Wayne writes for Health Testing Centers, which has been offering direct access to health testing for 30 years.
Image Courtesy: 

Microsoft