Recipe: Creamy Macaroni & Cheese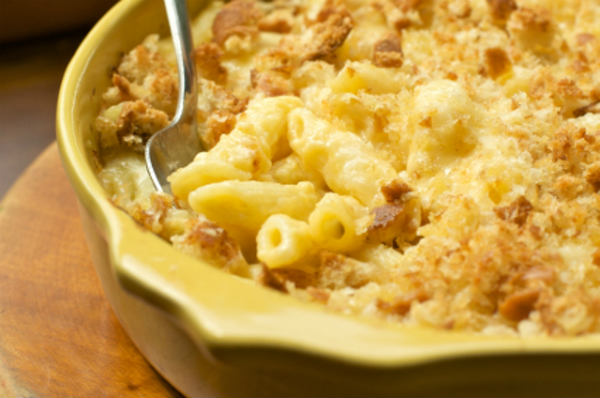 Summary: Don't know what sides to fix yet for all the picky eaters of the family? Need a recipe that is going to please most everybody at the dinner table? There aren't many people – kids included – that will turn down a good, creamy mac and cheese. Unfortunately for the cook, and fortunately for the mac and cheese devotee, there are a hundred different ways to make it. Some use cheddar cheese, others gruyere, and then there's that powder stuff in a box. Some like their mac and cheese almost dry, others very creamy. If you prefer not to eat dried out pasta and ensure a moist, creamy noodle in every bite, check out the follow recipe for creamy macaroni and cheese:
Ingredients
1 box (8 oz.) penne pasta, cooked and drained
4 tbs. butter
4 tbs. flour
½ tsp. dry mustard
1 tsp. salt
½ tsp. black pepper
3 cups milk
3 cups cheddar cheese, shredded
1 sleeve Ritz crackers, crushed
Instructions
Preheat oven to 350°.
Grease 8 x 10 baking dish.
In medium saucepan, melt butter over medium heat.
Whisk flour into butter until smooth and bubbly and cook for 20-30 seconds, whisking constantly.
Add salt, pepper and dry mustard. Slowly stir in milk until smooth.
Continue to cook, stirring constantly, until sauce starts to boil.
After mixture starts to boil and becomes thicker, remove from heat and add cheese.
Stir until melted.
Add cooked pasta and stir until noodles are covered with cheese sauce.
Pour into greased baking dish.
Cover with crushed Ritz crackers.
Bake uncovered for 20-30 minutes or until bubbly around edges.
Preparation time: 15 minute(s)
Cooking time: 1 hour(s)
Number of servings (yield): 6
This recipe was written exclusively for www.infoineed.com by LowCountry Barbecue, proud to be a leading Atlanta caterer, serving families and businesses for over 25 years. LowCountry Barbecue specializes in catering events all over the country; no location is too far and no party is too much.
Microformatting by hRecipe.