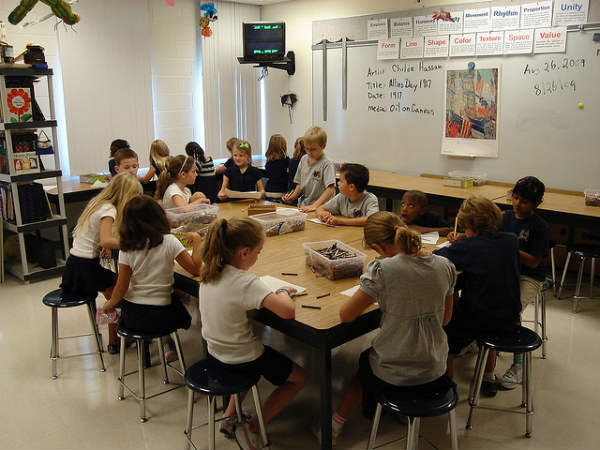 When teaching a classroom full of students, it's inevitable that you will have several different learning abilities to deal with. Not all kids learn the same way or in the same amount of time. You will have some students that require less instruction, while others may need a step by step guide in order to do the work. It's important to remember that each child brings a different set of experiences, knowledge and motivations to the classroom. And it's the teachers' responsibility to recognize, understand and work with the learning differences of their students.
Educational institutions should honor and respond to the many kinds of diversity that children bring to the classroom.  Children's differences should not be dismissed in the name of standardization, but rather appreciated and incorporated into the curriculum itself.  Every child has abilities and strengths, as well as areas in which they require more concentrated teaching.  As educators, it's important to make decisions about how to handle learning differences in school in the appropriate ways.
Multi-level Teaching
In order to teach a wide range of students within one classroom, teachers have to think more strategically about how they teach and what they teach. It's more apparent than ever that not all students will be similarly engaged in identical learning experiences, nor should they be evaluated according to the same criteria.  It's necessary to engage all students in a collaborative project that still meets each individual's educational needs. These kinds of classroom modifications and adaptations benefit children's learning and also show the students that they are valued.
Peer Tutoring
Another way to address skill levels is to arrange for students to be resources for one another through peer tutoring. This can be done by either pairing up children in the same grade or pairing up older students with younger ones. If you want to use peer tutoring in a single classroom, you can teach certain things to individual children that they can then go teach the other students about until the whole class knows the information. In order for this approach to positively affect the students, however, teachers must be careful that all children get a chance to be the teacher or the leader, and that no one always in the role of receiving help. In order to do this, broaden the types of activities and projects that the students do throughout the school year.
Cooperative Learning
When it comes to teaching children with different abilities, cooperative learning is one of the best ways. It involves children working together and helping each other learn. One method of cooperative learning works by dividing the classroom into groups and then giving each group a separate piece of material to learn and then teach the rest of the class. Everyone is responsible for learning all of the material, which gives the students and incentive to teach and learn from each other.
Teaching Social Skills
This technique places substantial emphasis on teaching group members appropriate social skills to ensure smooth interaction and cooperation. In order for cooperative learning and peer tutoring to be effective, teaching proper social skills is necessary. You may want to provide specific instruction by means of praise, encouragement, and resolving conflicts. To teach these skills, it's necessary to engage students on giving and receiving help. They can then explore and practice ways of offering help in a nice way rather than belittling other students' abilities, as well as how to accept or decline help tactfully.
In regards to teaching to different learning styles and abilities, there must be a balance in the classroom. An effective teacher will have no problem integrating the necessary techniques in order to meet the needs of every student. Whatever their ability may be, it should not be abandoned or segregated based on differences or difficulties.